Pleasing Pacific NW Audiences Since 2005.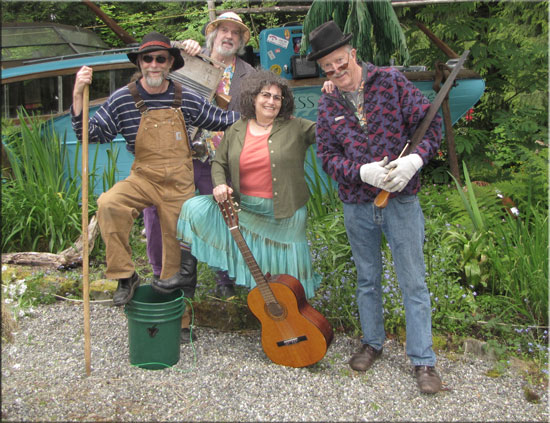 Unlike most bands, PMJB has a core rhythm section that continues to back up a variety of the area's best old-tyme and roots music singers and songwriters. This consists of Gary Sparrow on gut-bucket bass, George Jay on musical saw and Ranger Kidwell-Ross on rubboard, Samsonite suitcase and various other percussion.
Poor Man's Jug Band has played a wide variety of top NW venues, including the Lincoln Theatre, Skagit County Fair and The Muse. In addition, they have been a hit at many private parties, retirement centers and other venues where people want to hear some of that old time music.
In its current incarnation, PMJB features Simme Bobrosky as lead vocal and guitar. Originally from Los Angeles, Simme's home has been in the Pacific Northwest for more than 30 years. Although Simme first started playing jug band-type music in her teens, she has more recently been involved with World Beat, African, Middle Eastern and marimba bands.
We invite you to take a look around our website, meet the musicians and take a look at the types of songs we play. We invite you to check out our band's promo sheet in pdf format. For more information or to book the crowd-pleasing Poor Man's Jug Band to your next event, call 360.724.7355 or send us an email.